TOP LOCAL BEERS IN PROVENCE
Mis à jour le 29 October 2018
Spring is in the air and it'll soon be time to enjoy an aperitif out on the sunny local terraces. But did you know we don't just drink rosé and pastis in Provence? We also offer excellent local craft and organic beers to quench your thirst!
Micro-breweries have been springing up all over France in recent years – apparently there are over 1,200 now. All part and parcel of the 'back to nature' trend. People are keen to sample local produce with a typical flavour, made by artisans using sustainable techniques. And they're right!
Our guide to Provence's top craft beers is packed with local flavours, such as honey, lavender and chestnuts – you won't be ordering a half any more without asking what brewery it comes from!
Petite Aixoise = big news
Located just next to Aix-en-Provence, in Saint-Cannat, Petite Aixoise is a local, 100% natural craft beer with no additives or artificial flavours, pampered with lengthy fermentation for optimal quality.
Fancy a glass? Petite Aixoise comes in a choice of brews: Ambrée (pale ale), ideal with charcuterie and cheese, IPA for bitter lovers, Blonde (lager) to be served well-chilled, Blanche (white) for summer and the dark and creamy Triple…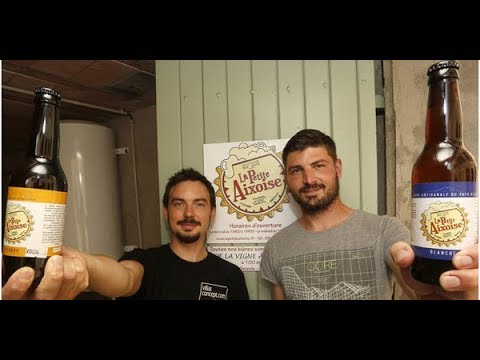 Aquae Maltae in Aix-en-Provence, artists and brewers
Flavien, Georges and François have been producing their organic craft beer with tender loving care since 2015. These artists, brewers and lovers of the local hills and Med have adopted a truly citizen approach and are committed to preserving the environment throughout the beer making process.
If you're not a beer expert, we recommend getting up to speed with their Classic craft range. And if you're a connoisseur, head straight for the IPAs (plenty of hops), Stouts (resembling Guinness but better) and Dry Hoppings (averagely bitter, with flavours of citrus and fruit of the forest). Whatever you choose, you're sure to love their creations.
Brasserie de Sulauze in Miramas, passion and character
Located adjacent to Etang de Berre lake – a little-known yet charming area of Provence, Julien and Guillaume are amateur-but-passionate brewers, offering a character-filled, lively and ever-changing choice of beers.
The brewery was born in 2012 on an organic vineyard, already offering a joyful mix of vines, hay, olives, bulls and cereals. The beer is made entirely using ecological and traditional techniques. In the first year, they even planted biodynamically-grown barley and hops on the domain to cover part of their production needs.
These fervent artisans are keen to introduce visitors to beers from every horizon. Their fabulous range includes Barley Wine, Pils, Stout, Brown Ale, Lambic, Indian Pale Ale, Weizen, Porter and much more.
Bières de la Plain in Marseille, urban and organic
Jean-Julien, Jean-Loup, Salem and Sylvain launched Bières de la Plaine in 2013 in Marseille city centre and now produce a fabulous collection of high-quality, lovingly-crafted, natural, unfiltered and unpasteurized lagers, pale ales and bitters, with new creations every season... These astonishing beers rapidly became popular with friends, family and the local quarter, before spreading to the whole of Marseille and beyond. A heart-warming success story, now crowned with the AOQ (Appellation d'Origine de Quartier) label.
Tours and brewing classes on request.
Part Faite, 100% organic wine by the Brasserie Des Suds in Marseille
Gonzalo and Laure have found the ideal place for brewing their 100% organic craft beers in the shape of lively and dynamic Marseille. This crowdfunded brewery has also allowed over 300 people to have their say in its recipes to expand their range.
The oval-shaped fermentation tanks lend the Part Faite unfiltered, unpasteurized beers - free of artificial flavours and preservatives - their unique and characteristic flavour. The duo has further asserted their commitment to the environment with a resolutely eco-friendly approach to the beer making process.
The Part Faite beers are fairly light and not too strong, with Kölsch-Style Ale, Weissbier, Altbier, Seasonal and Triple Fermentation reinterpreted Marseille-style!
La Minotte, all the freedom and generosity of Marseille
La Minotte micro-brewery was born out of a desire to produce 'home-made' beers. Creative talents Max and Laurent are now proud artisans of taste... In 2015, after many months of intensive tasting, three 100% Marseille craft beers made their big entrance on the city's stage. La Minotte has now expanded its delicious range to feature lager, white beer, ale, pale ale, stout and a pop-up beer of the month.
The beers are all high-fermented, unfiltered, unpasteurized and refermented in the bottle. Located in the Capelette quarter of Marseille, La Minotte opens its arms to beer lovers keen to taste and learn about the production process in the company of brewers.
BAP, in the heart of Provence
Producing exclusively-organic beers, the Brasserie Artisanale de Provence, or 'BAP', is situated in the heart of Provence, in Rousset-sur-Arc, to the east of Aix-en-Provence, against the dreamy backdrop of Sainte Victoire mountain... In front of the ancient barn now converted into a brewery lies a pretty meadow, just waiting to be turned into a field of organic barley and hops. Fans will also be able to savour a beer flavoured with plants grown in the on-site organic garden too. Bring it on!
Meanwhile, Pierre and Jean-Luc produce a rich and flavourful lager of Belgian inspiration, ideal served as an aperitif, a cloudy, thirst-quenching white beer perfect for summer and a slightly fruity pale ale, with a sophisticated, sweet and malty flavour.
WHERE CAN I ENJOY A GOOD BEER IN PROVENCE?
AT MARSEILLE AND AIX-EN-PROVENCE'S TOP-QUALITY SPECIALIST BEER BARS
In Marseille:
In Aix-en-Provence:
AT THE 'PROVENCE BIERE CONNEXION' FAIR
May 5th to 7th, 2018 at the 'Friche Belle de Mai'